VT: Update from 2021.  The new scandal at the Air Force Academy, not just grads at the insurrection but a Trump insider still acting as unit commander, brings back our last attempt by insurrectionists, fake Christian evangelists who are part of the Satanic organization that took over the Air Force as early as 1982.
This is a needed history lesson, first published by the Russian Academy of Science in a peer reviewed journal:
T
[ Editor's Note:  You just can't make this stuff up folks.  Right wing email lists are being worked to spin the continued cleanup of the nuclear command, for the most obvious security reasons, as some sort of anti-military Obama's revenge on the Air Force.
Left out of this charge is even a peep about where do the Joint Chiefs fit into the scenario. After all, they are running the investigation and making recommendations for these actions, with all of it going past General Dempsey's desk before it gets to Obama's.
Even savvy Internet readers get sucked into the hype. All those who are "very unhappy" with Obama are easily profiled by Google so the email list pros know exactly who to shovel the propaganda manure out to. They know that as long as it hurts Obama, the readers don't really care too much if it is true or not.
Most are very patriotic Americans, big on national defense, and don't have a clue that they are being played for suckers by the same crowd that brought us 9-11 with the WTC's being brought down with mini-nukes.
This was confirmed by the IAEA with a simple mass spectroscopy dust sample analysis, something they have been doing at big boom sites to try to learn who was field-testing mini-nukes. Read more below.
VT ran a whole series of articles about a lot of this during the late summer. We did not get one call from mass media, nor one politician wanting to know more about this historic event. The story got the ostrich treatment from those who should have been happy that someone else had done the heavy lifting. One can understand their being scared, but being cowards, now that is one step too far… Jim W. Dean ]
___________
While the US is negotiating with Iran over its nuclear program and American lawmakers like Senator John McCain calling for preemptive strikes on America's ally, Pakistan, America's own nuclear weapons program is suffering from not only failures in command, but inventory shortfalls as well.
This week, Secretary of Defense Chuck Hagel is expected to announce the entire restructuring of America's nuclear weapons force based on findings of two studies, one from within the military.
The other, highly secret,  has examined over two decades of espionage, weapons theft and the takeover of key nuclear command positions by both religious extremists and individuals with personal lives so out of control that they are considered at risk for blackmail.
Tracking missing nukes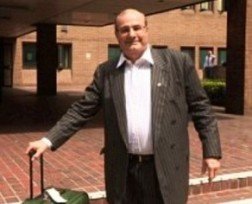 In Britain, something even stranger is going on related to nuclear weapons. Barrister and author, Michael Shrimpton is on trial in London for making "hoax nuclear weapons threats" against the London Olympics, or so it is being reported by the press.